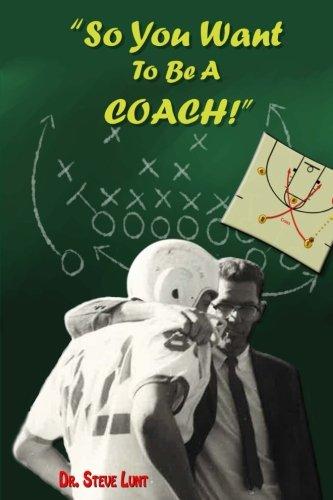 So You Want To Be A Coach!
Regular price $0.00 $7.00 Sale
Author: Dr. Steve Lunt
Number Of Pages: 84
Publisher: CreateSpace Independent Publishing Platform
Release Date: 19-06-2017
Details: Those persons who desire to get into coaching an athletic team at any level, often times do not fully understand all that is involved in becoming a coach. Often they aspire to coach because they once participated and still want to be actively involved in sports, or they have a deep desire to be involved even though they themselves may not have been an active participant. Having been a coach on the youth sports, interscholastic and intercollegiate levels, I experienced each of the the trials encountered with coaching. This included being the equipment manager, the athletic trainer, arranging transportation, rooms, meals, ordering equipment and inventory control. Currently being in the position of directing the preparation of those choosing to become a coach, and being responsible for the soliciting and hosting of a variety of sports events for league and conferences championships, as well as, high school state championships, I found that too often those pursuing coaching do not realize all that coaching entails. Many people see coaching as a high profile glamorous position. The part of coaching most noticeable is about 10% of their job: show time and game time. What is not seen or known is the remaining 90% where all of the preparations and many problems occur. This book is to help enlighten those who choose to get into coaching as to all the duties, responsibilities one will most likely encumber. To alert people of the many and varied tasks associated before they accept a coaching positions is the primary purpose of this book.
EAN: 9781548221355
Package Dimensions: 9.0 x 6.0 x 0.2 inches
Languages: English